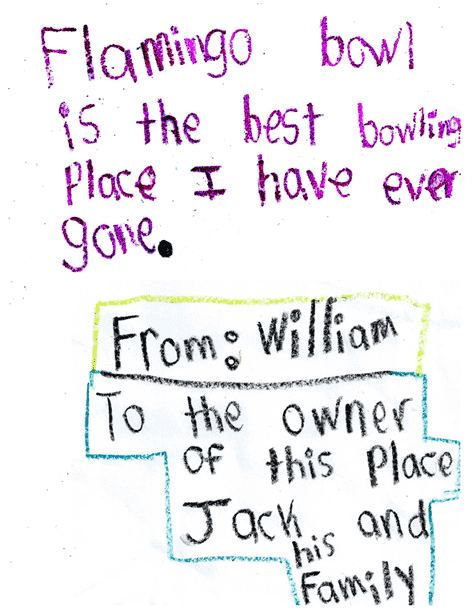 "Had an awesome time there! Very reasonably priced, food is delicious and comes out quick, lanes are nice and the staff are all friendly. Can't wait to go back!"
Google Review, 12/2021
"Very good service good alleys it's a good place to go bowling and have fun and have a drink if you want"
Google Review, 12/2021
"What a fun time open bowling here with friends! We each bowled three games and then had some snacks afterwards.
I have been going to Flamingo Bowl for decades (back when that nice lady Marge worked the counter). It was fun then and still fun nowadays.
Bowling is a great sport that can be enjoyed at any age! We will return as it's a very inexpensive way to have fun with friends."
Janet P. 5/9/2019
"I had my son's birthday party at Flamingo a few weeks ago and I can't tell you how great of a server Christina was during our party. She was always there when we needed something and the drinks for the kids never ran out. She was very attentive and I was so pleased with her service! I wanted to pass along how happy we were with her!"
Shannon Davis 7/5/18
"Hands down the best bowling alley in
the area! Beautifully renovated, clean, friendly staff, delicious food/drinks! Perfect place to throw a party.
They have cosmic bowling which is a plus! Just threw our daughters 2nd birthday there in which we were offered a birthday package that came with your theme of choice including plates & napkins with theme and goodie bags, lanes for kids that included bumpers if needed, and separate lanes for adults!
Not only were we offered the typical birthday package but we were offered to customize exactly what we wanted and
got a ton of great food that fit the need
of every person in our party! Can't wait
to do it again next year!"
Samantha S. 11/19/2018
"Awesome place! Always have a great time. Had a couple parties here always a good time and stress free! Would recommend to anyone! Cleanest bowling alley I've been to in awhile. Liked seeing the people working cleaning the lanes and carpets."
John J. 6/2/2017
"Had a birthday party there over the summer for my daughter. Ordered
a bunch of pizzas and sodas around
40 people. I can't remember the
girls names, but they were amazing the food was great and they took great care
of us. Will definitely be back and will spread the word. Anyway, my hats off
to you. Thank you."
Michael 10/25/17
"Flamingo Bowl has been an ongoing tradition in Central New York for more than a few decades. They have kept up with innovation and technology, and have kept bowling in the forefront for fun family outings. I do highly recommend Flamingo Bowl."
Rob Orizino
RR DJ Services 8/7/2022

"Reliable, good event planner, and very accessible venue!"
Robyn Bombard
NewsChannel 9 WSYR 2022
"Had a party here for my daughter's birthday. I can't recommend this place enough. So organized all I had to do is show up. We had a blast!"
Google Review 6/2022
"We had a great time yesterday, and
have to give credit to the 2 workers.
It was so busy and they were so patient with everyone. Thanks for a memorable day"
Ellen K. 2/23/2022
"Staff was GREAT!!!! Food and Drinks was on point. Just A Great place to have family and friends fun time. Enjoyed myself"
Marlene N. 2/22/2022
"I had my 6 year old daughters party here yesterday, it was so cute the way it was set up, the kids had so much fun. The employees were so nice and helpful.
A few days before my daughters party I messaged them via Facebook for a PDF of the food menu for our guests and they were very responsive and helpful. I really recommend a party or even just a bowling night here."
Google Review 10/29/2021
"Love it here, great place for fun & family oriented. nice friendly staff a must go to place."
Google Review 9/2021
"My and my friends had a great time and the staff was great. The service was great and we will be back. I recommend Flamingo Bowl to everyone!"
Google Review, 8/2021
"I recently held a 30th Birthday Party for my fiancé at Flamingo Bowl. I was able to meet with Trish to fine tune details prior to, and she was incredibly helpful in assisting with my OCD planning for the surprise!
Virginia was an absolute delight during the party and attentive to all our needs with the meal. The front desk staff assisted with any questions we had and was prompt and proactive in accommodating our party of 40 individuals.

A huge appreciation to all the staff who were able to help make the party a success! I would definitely recommend Flamingo to anyone who is looking for a place to host an event, young or old! Thanks again!"
Heather 1/19/20
"Great place to bowl! Clean lanes, Friendly people, and great food. Have been going consistently for the past 15 years and I am never let down."
James J. 5/8/2019"Have had group events here multiple times and have always received outstanding service!
Flamingo Bowl = fun, fun, fun!"
Google Review 1/4/17
"We've spent the last 5 NYE's here and it's always amazing!"
Linda M. 8/11/2016
Please email us and let us
know about your experience
at Flamingo Bowl
and if you want it
to appear on this page.*
*All feedback helps, so please email us
with any feedback to help us serve you better.